Your Destination For Curling
Our state-of-the-art curling facility offers five sheets of pristine ice with a variety of leagues and programs available to members. From our keystone Friday Night Entertainment series to our Saturday Dinner League, we are able to leverage our unique facility to provide an unmatched experience to our members.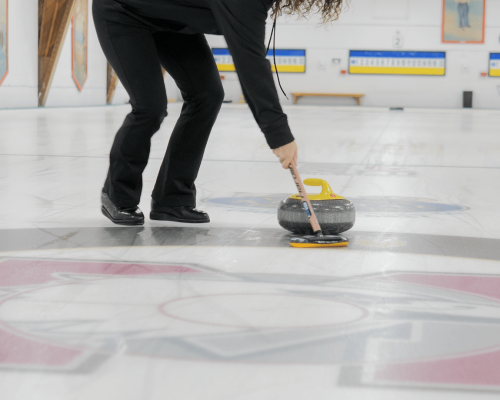 An Enhanced Curling Experience
Our unique curling membership includes year-round access to our Mackenzie Hughes Par 3 short course, as well as full access to our dining and club events.
Our popular Learn to Curl program is back this season. We encourage you to join if you are a first-time curler. The program is based on guidelines and best practices provided by the Canadian Curling Association. Our experienced instructors will teach you how to slide, sweep, and play during the sessions. You will also learn the basic strategy, rules, and game etiquette. Participants will be provided with equipment; a slider, broom, and stabilizer.
The program will run over three nights, from Tuesday, October 11th – Thursday, October 13th, from 7:00 pm – 9:00 pm.
To find out more and sign-up, please contact our Curling & Membership Director, Rob Matheson, at rmatheson@dundasvalleygolf.com.
The robust curling program will have you on the ice multiple times a week! It's a great place to form new friendships.
The enjoyable experience continues twelve months of the year, as our Curling Director guarantees ice among the best in the region and a full slate of curling events.